No Experience Necessary...Beginners Welcomed and Encouraged!
Day Camps! When school's out, but you're not.
Our camps give you the peace of mind that your child is safe, making friends, and having fun. We offer kids favorite activities, all ran by our excellent certified instructors, who LOVE teaching kids, to give the safest, most fun experience for all campers.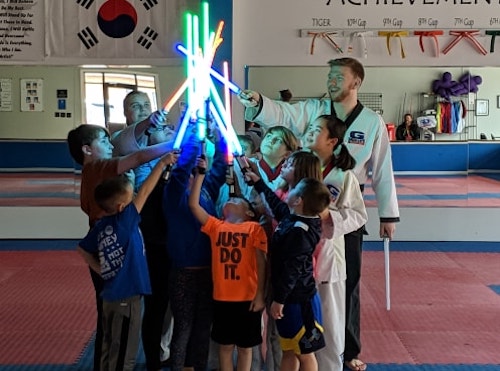 Year After Year After Year - Awesome Day Camps are highly regarded as The Most Fun, Exciting & Valuable Camps ANYWHERE!!!
These Are The Camps That Everyone Is Talking About - Don't Miss The Opportunity For Your Child To Be A Part Of All The FUN!!!
Day Camps:
4/7 Easter Break
9/4 Labor Day
10/9 Columbus Day
Summer Camps:
6/12-6/16 June Minecraft Camp
7/10-7/14 July Ninja Turtle Camp
*Pricing is $50 Full Day and $25 Half Day
Summer Camp Details:
Full Days are for ages 6 and up
Half Days are for ages 4-5
Tuition: Full day $250 weekly - 2 camps: $475 Total
Half Day: $125 Weekly - 2 camps $ 235 Total
Free T-Shirt Included (1 Per Student)
Crafts-supplied students bring their own lunch
We provide drinks (water) and a Nut-Free Snack
Register for camps on our app. Search for "grogansacademy" in the app store. install and enter the studio code 6567700. The homepage includes our studio events, where you can find the summer camps to register for!
Goshen children's Martial arts camps give structured, beneficial activities for children while they have fun learning real karate. They will be entertained from start to finish and not even realize that they're learning and exercising. And we incorporate our character development and life skills into each camp.
Call us at 618-656-7700 to register if using sibling or multiple camp discounts.